Don Ward, founder and CEO of Austin-based Laundris Corp., has been recognized as one of 30 U.S. Black founders to Watch in 2021 by Google.
Ward has led the laundry-technology startup he launched in 2017 on a growth trajectory during the Covid-19 pandemic. He's secured a physical headquarters in Manor, about 12 miles northeast of the Texas capital. He's added new customers, such as the city of Austin. He's partnered with Minnesota-based Ecolab Inc. (NYSE: ECL), a global water, hygiene and energy technologies and services company. And he's recently hired a chief operating officer and a national sales director.
That's quite a set of accomplishments for a company that missed out, like so many others, when the coronavirus forced the cancellation of South by Southwest 2020. Ward had been preparing to participate in a program designed to shine a spotlight on Black and Latinx entrepreneurs hosted by an Atlanta-based group called Opportunity Hub.
Laundris provides a platform that simplifies linen operations for hotels and other large organizations such as the University of Texas at Austin Dell Medical School and the Austin office of Facebook Inc., where Laundris washes cafeteria uniforms. The platform supplies information including inventory status and the physical state of linens using radio-frequency identification, or RFID, tech. The company boasts 10 current customers.
Ward also recently added internet-of-things features to the Laundris platform, complete with dashboards, artificial intelligence, machine learning and API software integration, he said. And Laundris has "an 80% chance" of obtaining a patent on inventory-and-asset-management tech the company is developing, Ward added. Among other things, that will enable customers to track a piece of laundry throughout the cleaning cycle, and enable customers to know when it's time to reorder, he said.
Google shoutout
Jason Scott, head of U.S. startup developer ecosystems for Google Inc., named Ward on the company's list in an Aug. 8 Medium post, along with 17 others that just missed being one of the 12 accepted into Google's first startup accelerator for Black founders. Google reviewed more than 1,000 applicants.
In July, Ward was a top 10 finalist in the second annual Minority Entrepreneurship Institute Showcase in Dallas, which had 147 applicants from 42 Texas cities.
"It's been a long journey since founding Laundris in August of 2017," said Ward, who was featured in Austin Business Journal's Capital Factory Office Hours series in October.
"The experience with Facebook allowed us to successfully pivot to service federal emergency response teams for the city of Austin — which more than doubled our revenue," Ward said. "Three years later that $20-per-week opportunity with Facebook Austin has morphed into a patent-pending technology-enabled service."
He said Laundris is profitable and projected the company would exceed $1 million in revenue in 2020, double what he was expecting prior to the pandemic.
The CEO said the company is about $100,000 from closing a $1 million "friends and family" funding round. That includes investments from cybersecurity executive Ronald Mraz, Austin OB-GYN Dr. John Thoppil and Hunt Companies Inc., a family-owned investment firm based in El Paso.
With that funding, Ward has hired Dan Martin as COO. Martin is the former CEO and chairman of Austin software company CoreTrac Inc., which was acquired by Atlanta-based Aptean Corp. in 2015.
"Dan is a kind of startup whisperer who helps grows companies to 100 [employees] or more," Ward said. "He also can position us for a series A funding round, and further downstream."
And Ward has hired Nelson Tao as sales lead for Laundris. Tao comes to the company after serving as director of sales at Capital Factory, the Austin-based startup accelerator, coworking space and investment company. Prior to that, Tao co-founded and was CEO and COO of Austin-based Press Technologies Inc., which he describes as "the Uber for Laundry" on his LinkedIn page.
Martin and Tao are scheduled to begin in September.
Laundris currently employs seven, but Ward said he projects another 10 people will be added during the next 12 months. Positions will be in technical and sales areas, he said.
The friends and family round also will "accelerate our software development," Ward said.
How does laundry tech work?
The new Manor facility, which the company moved into on Aug. 10, is where Laundris will wash clothes. Previously the company used a third party in Austin to handle the actual laundering. In addition, it will be Laundris' research and development center and includes IoT-enabled devices that track "sustainability metrics," Ward said. Dwyer Realty Companies Inc. acted as the company's commercial real estate broker.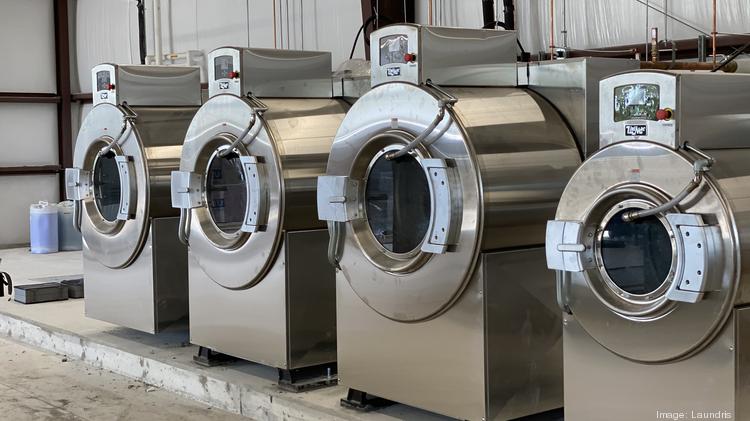 "We started out as a laundry-services company," Ward said. "Now, we're morphing into software development."
Those metrics will include such things as water use, water temperature, specific cleaning solutions used on specific sheets and when a load was dropped off at the facility. RFID tagging now enables Laundris to track the "cleanliness" of the laundry it washes. With the pandemic, "people are asking for more cleanliness now," Ward said.
The Ecolab partnership will enable Laundris "to scale outside Austin," he said. Ward plans to add one city by the end of the year, and then others beyond that. Targets include Chicago, Denver, Memphis, Nashville and New Orleans.
That, Ward said, will be a key Laundris differentiator as it grows and continues to compete with uniform-provider heavyweights such as Philadelphia-headquartered Aramark Inc. (NYSE: ARMK), Cincinnati-based Cintas Corp. (Nasdaq: CTAS) and Massachusetts-based UniFirst Corp. (NYSE: UNF).
"What we're offering is over and above just services," said Ward of the R&D and IoT tech-metrics now taking place at the Manor facility. "We're able to reduce labor and linen-supply costs by automating through standardization."
Meaning, like all customers know precisely what to expect when they order a Big Mac at McDonald's — no matter where in the world they do so — Laundris is going to replicate what it offers here in Austin to all customers once it expands to other cities throughout the country.